These Fashion Trends Have Now Come Full Circle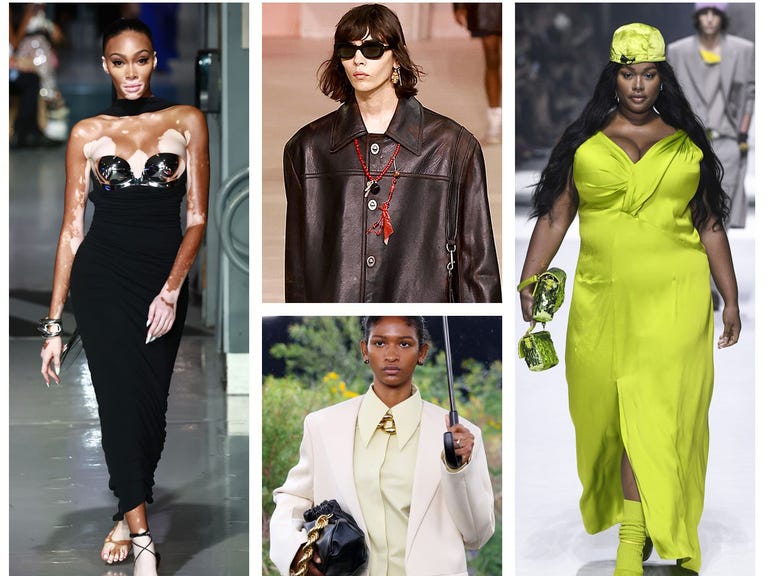 Fashion is a dynamic industry that constantly evolves, and what was once old often becomes new again. The cyclical nature of fashion trends ensures that styles that were once popular are bound to resurface at some point. This phenomenon can be attributed to a combination of nostalgia, the influence of pop culture, and the ever-changing landscape of the fashion world.
Fashion Trends: A Constant Evolution
Fashion trends have always followed a cycle, with new styles emerging, gaining popularity, and eventually fading away, only to make a comeback years or even decades later. This cycle is driven by the desire for novelty and the human need for self-expression through clothing. As trends come and go, fashion enthusiasts eagerly await the revival of their favorite styles.
The Rise and Fall of Fashion Trends
Fashion trends experience a rise and fall in popularity over time. What was once considered cutting-edge and trendy eventually becomes outdated and unfashionable. However, fashion is a cyclical industry, and trends that were once iconic have a way of making a resurgence. This cyclicality allows for the reinvention and reinterpretation of past fashion movements.
The Revival of Retro Styles
One of the most noticeable ways fashion trends come full circle is through the revival of retro styles. Vintage fashion, particularly from the '60s, '70s, and '80s, has made a significant comeback in recent years. From flared jeans to platform shoes, these iconic styles have found their way back into the mainstream. The nostalgia associated with these eras plays a crucial role in their resurgence.
The Influence of Pop Culture
Pop culture has a tremendous impact on fashion trends and their cyclicality. Movies, music, and television shows often inspire fashion choices and create a renewed interest in certain styles. When a beloved TV series set in the '80s hits the small screen or a movie showcases a specific era's fashion, it reignites the fascination with those fashion trends, prompting their revival.
Fashion Trends That Have Made a Comeback
Several fashion trends have successfully made a comeback and captured the attention of fashionistas worldwide. These trends include the timeless and versatile denim, animal prints, and the groovy bell-bottoms.
Denim: Timeless and Versatile
Denim is a fashion staple that has stood the test of time. From jeans to jackets, denim has always been a versatile and reliable choice for many. The classic denim jacket, with its rugged appeal and effortless cool, has become a wardrobe essential. Additionally, denim overalls and jumpsuits have made a comeback, offering a nostalgic yet fashionable twist to any outfit.
Animal Prints: A Roaring Comeback
Animal prints, once associated with boldness and glamour, have roared back into the fashion scene. Leopard and cheetah prints, known for their fierce and daring nature, have regained popularity. Snake and zebra prints, with their exotic appeal, have also found their way back into wardrobes, adding a touch of wild elegance to various ensembles.
Bell-bottoms: Groovy and Stylish
The '70s gave birth to the groovy and stylish bell-bottom pants, and now they are back in full swing. Embracing the '70s vibe, bell-bottoms have become a symbol of retro chic. These wide-legged trousers are versatile and can be dressed up or down, allowing for endless styling possibilities.
The Influence of Nostalgia and Vintage Fashion
Nostalgia plays a significant role in the revival of fashion trends. People often associate certain styles with specific memories or cultural movements, creating a deep emotional connection to those trends. Vintage fashion embodies a sense of history and authenticity, allowing individuals to express their individuality and pay homage to the past.
The Power of Emotional Connection
Fashion has the unique ability to evoke emotions and memories. When people see or wear clothing reminiscent of their past or their favorite era, it sparks joy and nostalgia. This emotional connection to fashion trends drives individuals to seek out those styles and incorporate them into their wardrobes, ensuring the cyclical nature of fashion continues.
Embracing Vintage Fashion
The popularity of vintage fashion has soared in recent years. Thrift stores and online platforms dedicated to secondhand shopping have become treasure troves for fashion enthusiasts seeking unique and sustainable clothing options. Embracing vintage fashion not only allows individuals to express their personal style but also contributes to reducing waste in the fashion industry.
The Role of Social Media in Reviving Fashion Trends
Social media platforms, particularly Instagram, have become influential hubs for fashion inspiration and trendsetting. Fashion influencers with large followings have the power to reintroduce and popularize fashion trends from the past. Their carefully curated posts and outfits inspire others to embrace retro styles, resulting in a resurgence of these trends.
Influencers and their Impact
Fashion influencers have a significant impact on the revival of fashion trends. Their ability to reach a broad audience and showcase their personal style choices allows them to shape the fashion landscape. By incorporating vintage elements into their outfits, influencers create a desire among their followers to emulate these styles, leading to the resurgence of retro fashion trends.
Hashtags and Viral Fashion Challenges
Hashtags and viral fashion challenges on social media platforms have also played a crucial role in reviving fashion trends. When a specific hashtag gains traction, it creates a community of like-minded individuals sharing their interpretation of a particular trend. This collective participation brings attention to those styles and encourages their wider adoption, bringing fashion trends full circle.
Fashion's Sustainable Future: Recycle, Reuse, Revamp
In recent years, sustainability has become a growing concern in the fashion industry. As a response, individuals are exploring ways to recycle, reuse, and revamp their clothing. Thrifting and secondhand shopping have gained popularity as people recognize the environmental and ethical benefits of giving pre-loved garments a second life. Additionally, do-it-yourself (DIY) projects and upcycling have become popular ways to breathe new life into old clothing items, fostering creativity and reducing waste.
Conclusion
Fashion trends are in a constant state of evolution, and what goes around inevitably comes back around. The cyclical nature of fashion ensures that styles from the past will continue to resurface and captivate fashion enthusiasts. Whether it's the timeless denim, animal prints, or groovy bell-bottoms, fashion trends have the power to evoke nostalgia and create a sense of connection to the past. With the influence of social media and the growing focus on sustainability, fashion's cyclical nature will continue to shape the industry for years to come.