The Best New Fashion Trends For 2022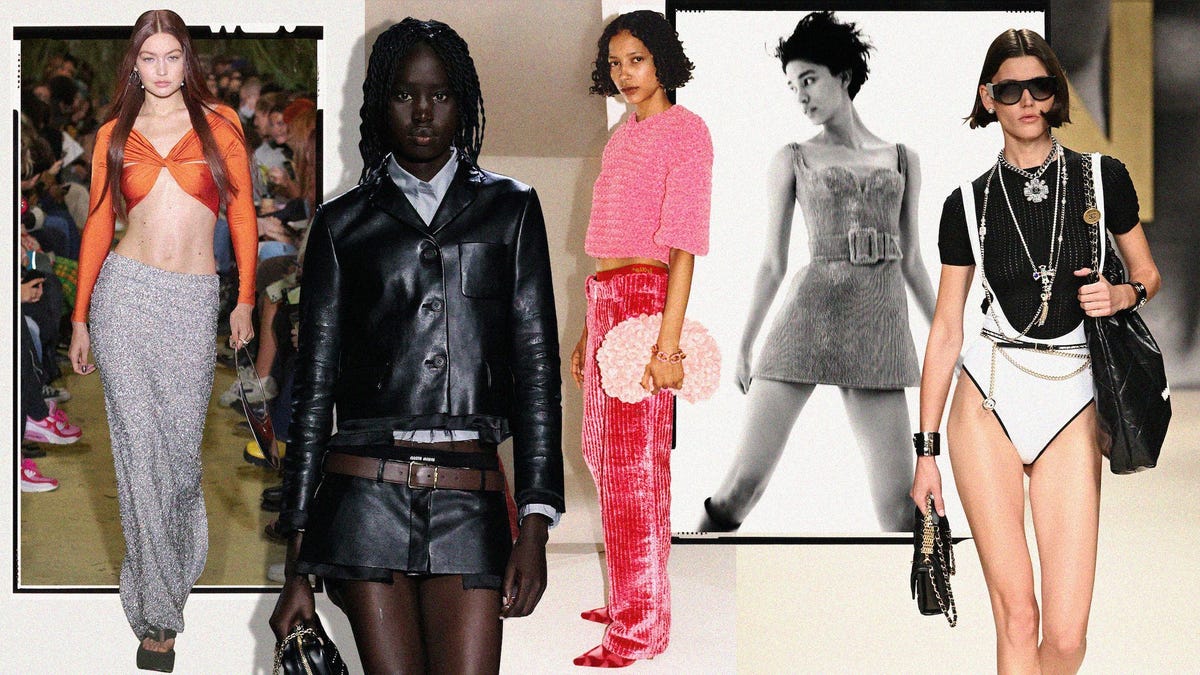 The fashion industry is a constantly evolving landscape, with new trends emerging each year. As we enter 2022, there are several exciting fashion trends that are expected to make a splash in the coming months. From the influence of technology to sustainability and retro comebacks, the world of fashion is poised for an exciting year ahead.
The Ever-Changing Fashion Industry
The fashion industry has always been known for its ability to adapt and reinvent itself. With the advent of technology, this process has only accelerated. In 2022, we can expect to see the impact of technology on fashion trends like never before.
Virtual and Augmented Reality in Fashion
One of the most exciting developments in the fashion industry is the integration of virtual and augmented reality. These technologies allow consumers to experience fashion in a whole new way. Virtual reality fashion shows and augmented reality try-on experiences will become more prevalent, revolutionizing the way we shop for clothes.
3D Printing and Customization
Another technological advancement that will shape fashion trends in 2022 is 3D printing. This innovative technique allows designers to create unique and customizable pieces. From personalized accessories to custom-fit garments, 3D printing opens up a world of possibilities for fashion enthusiasts.
Sustainable Fashion: A Growing Trend
In recent years, sustainability has become a hot topic in the fashion industry, and this trend will continue to gain momentum in 2022. Consumers are increasingly conscious of the environmental impact of their clothing choices and are seeking out more sustainable options.
Eco-friendly Fabrics and Materials
One aspect of sustainable fashion that will be prominent in 2022 is the use of eco-friendly fabrics and materials. Designers are turning to organic cotton, hemp, and recycled fibers to create stylish and environmentally conscious clothing. These materials not only reduce the carbon footprint but also promote ethical practices in the fashion supply chain.
Upcycling and Thrifting
Upcycling and thrifting will also be significant trends in 2022. Upcycling involves transforming old or discarded garments into new, stylish pieces. It promotes creativity and reduces waste in the fashion industry. Thrifting, on the other hand, encourages consumers to shop second-hand and embrace pre-loved fashion. It's a sustainable way to update your wardrobe while giving new life to clothes that would otherwise end up in landfills.
Retro Revival: Nostalgic Fashion Comebacks
Fashion has always had a cyclical nature, and in 2022, we will witness the revival of retro styles from the past. Nostalgia will take center stage as we see iconic fashion trends from the '90s and earlier making a comeback.
'90s Fashion Resurgence
The '90s was a decade known for its unique fashion trends, and many of these styles will resurface in 2022. Think baggy jeans, oversized blazers, and crop tops. Grunge-inspired fashion, with its flannel shirts and combat boots, will also make a strong comeback. Get ready to embrace the nostalgia of this iconic era.
Vintage-inspired Accessories
In addition to clothing, vintage-inspired accessories will be in vogue in 2022. Statement belts, chunky jewelry, and retro sunglasses will add a touch of nostalgia to any outfit. These accessories will help you achieve a distinct and fashionable look that pays homage to the past.
Gender-Neutral Fashion: Breaking Boundaries
Gender-neutral fashion has been gaining traction in recent years, and this trend will continue to challenge traditional norms in 2022. Breaking free from gender-specific clothing, fashion designers are creating styles that can be embraced by anyone, regardless of gender identity.
Androgynous Silhouettes and Styles
Androgynous fashion will be at the forefront of gender-neutral trends in 2022. Blurring the lines between masculine and feminine, androgynous silhouettes and styles allow individuals to express their unique identities. Tailored suits, oversized shirts, and gender-neutral colors will dominate runways and street fashion alike.
Unisex Clothing Lines
Unisex clothing lines will also gain popularity in 2022. These collections offer versatile pieces that can be worn by people of any gender. From t-shirts and hoodies to sneakers and denim, unisex fashion celebrates inclusivity and self-expression.
Bold Colors and Prints: Making a Statement
If you're looking to make a fashion statement in 2022, bold colors and prints are the way to go. Vibrant hues and eye-catching patterns will dominate the fashion scene, adding a pop of excitement to your wardrobe.
Vibrant Color Palettes
Expect to see a wide range of vibrant colors in 2022, from bold reds and blues to striking yellows and greens. Monochromatic looks and color-blocking techniques will be popular ways to incorporate these vivid shades into your outfits. Whether you opt for head-to-toe color or add a vibrant accessory, embrace the power of bold hues.
Eye-catching Prints and Patterns
Prints and patterns will also take center stage in 2022. Animal prints, floral motifs, and geometric designs will adorn dresses, tops, and bottoms. Mixing and matching different prints will be a daring yet stylish way to showcase your personality. Don't be afraid to experiment and create unique combinations that reflect your individuality.
Comfort and Athleisure: Fashion Meets Function
In recent years, comfort has become a top priority for fashion-conscious individuals, and this trend will continue to thrive in 2022. Athleisure wear, a fusion of athletic and leisure clothing, will dominate the fashion scene, allowing you to look stylish while feeling comfortable.
Athleisure Wear
Athleisure wear combines the functionality of sportswear with the style of everyday fashion. Leggings, joggers, and sports bras paired with fashionable tops, jackets, and sneakers create a chic and relaxed look. This trend emphasizes the importance of both comfort and style, making it perfect for those who lead an active lifestyle or simply appreciate comfortable clothing.
Loungewear and Cozy Essentials
In addition to athleisure wear, loungewear and cozy essentials will be key elements of comfort-focused fashion in 2022. Soft fabrics, oversized sweaters, and relaxed silhouettes will dominate loungewear collections. Comfortable yet stylish pajama sets and cozy robes will become wardrobe staples for relaxing at home or running quick errands. Embrace the joy of comfort without compromising on style.
Minimalism: Less is More
For those who prefer a more pared-down and timeless aesthetic, minimalism will continue to be a significant fashion trend in 2022. Clean lines, neutral tones, and a focus on quality over quantity are the hallmarks of this minimalist approach to fashion.
Clean Lines and Neutral Tones
Minimalist fashion emphasizes simplicity and elegance. Clean lines, structured silhouettes, and minimal embellishments create a sleek and sophisticated look. Neutral tones such as white, black, beige, and gray form the foundation of minimalist wardrobes, allowing for easy mix-and-match and versatile styling options.
Capsule Wardrobes
A key concept in minimalism is the capsule wardrobe. This approach involves curating a collection of essential and versatile pieces that can be mixed and matched to create numerous outfits. By investing in high-quality, timeless garments, you can build a functional wardrobe that stands the test of time and reduces the need for excessive consumption.
Statement Accessories: Enhancing Your Style
Accessories have always played a crucial role in elevating an outfit, and in 2022, statement accessories will be the focal point of fashion trends. Bold and eye-catching accessories will take center stage, allowing you to express your personal style and make a statement.
Chunky Jewelry and Oversized Bags
Chunky jewelry, including statement necklaces, oversized earrings, and stacked bracelets, will be must-have accessories in 2022. These bold pieces add a touch of glamour and draw attention to your outfit. Oversized bags, such as tote bags and hobo bags, will also be popular, combining fashion and functionality.
Headbands and Hair Accessories
Hair accessories will make a comeback in 2022, with headbands being a prominent trend. Whether adorned with pearls, velvet, or embellishments, headbands will add a touch of elegance and femininity to any hairstyle. Hair clips, barrettes, and scrunchies will also be popular choices for effortlessly enhancing your look.
Sustainable Footwear: Walking Towards a Greener Future
Just as sustainable fashion is gaining traction, sustainable footwear will also be in the spotlight in 2022. Shoe designers are embracing eco-friendly materials and ethical manufacturing processes to create stylish and sustainable footwear options.
Vegan Leather and Recycled Materials
Vegan leather, made from plant-based materials, and recycled materials will be key components of sustainable footwear. These alternatives reduce the reliance on animal products and minimize waste. Sneakers, sandals, and boots made from these materials will allow you to step out in style while making a positive impact on the environment.
Sneaker Culture and Comfortable Shoes
Sneaker culture will continue to thrive in 2022, with an emphasis on both style and comfort. Chunky sneakers, retro-inspired designs, and innovative sneaker technologies will be at the forefront of sneaker trends. Comfortable shoes, such as loafers, mules, and ballet flats, will also gain popularity, offering a balance between style and practicality.
Fashion Tech: Wearable Gadgets and Smart Clothing
The intersection of fashion and technology will continue to evolve in 2022, with wearable gadgets and smart clothing becoming more prevalent. These innovations blend fashion with functionality, creating a seamless integration of technology into our daily lives.
Smartwatches and Fitness Trackers
Smartwatches and fitness trackers have become popular accessories in recent years, and their prominence will only grow in 2022. These devices not only provide useful features like activity tracking and notifications but also come in stylish designs that can complement any outfit. Whether you prefer a sleek and minimalistic smartwatch or a sportier fitness tracker, these gadgets will add a high-tech touch to your fashion ensemble.
High-Tech Fabrics and Integrated Electronics
Fashion tech will extend beyond accessories, with high-tech fabrics and integrated electronics making their way into clothing. Smart garments with features like temperature control, moisture-wicking properties, and even built-in lighting will revolutionize the way we interact with our clothes. These innovative designs combine style and functionality, enhancing the overall fashion experience.
Cultural Influences on Fashion Trends
Fashion has always been influenced by different cultures, and in 2022, this cross-cultural inspiration will be more pronounced than ever. The globalized world we live in allows for the fusion of traditional and contemporary elements from various cultures, resulting in unique and diverse fashion trends.
Global Fashion Fusion
Global fashion fusion will be a key theme in 2022. Designers will draw inspiration from different cultures, combining traditional elements with modern twists. From incorporating traditional textiles and prints to embracing unique silhouettes and embellishments, fashion will become a melting pot of global aesthetics.
Traditional and Indigenous Fashion Inspirations
Indigenous and traditional fashion will also play a significant role in shaping trends in 2022. From Native American influences to African prints and patterns, designers will celebrate the rich heritage of different cultures. This trend promotes cultural appreciation, diversity, and inclusivity within the fashion industry.
Influencer Impact: Social Media's Fashionable Stars
Social media influencers have become powerful forces in the fashion industry, shaping trends and inspiring millions of followers. In 2022, influencers will continue to have a significant impact on fashion, collaborating with brands and showcasing the latest styles to their dedicated audience.
Instagram and TikTok Fashion Influencers
Instagram and TikTok will remain the primary platforms for fashion influencers to showcase their style. These visual platforms allow influencers to share their daily outfits, provide styling tips, and collaborate with brands. From fashion bloggers to micro-influencers, these individuals will continue to influence consumer choices and shape fashion trends in 2022.
Collaborations and Brand Partnerships
Collaborations between influencers and brands will be a key marketing strategy in 2022. Influencers will partner with fashion labels to create exclusive collections or promote existing lines. These collaborations bring together the creative vision of influencers and the brand's expertise, resulting in unique and highly sought-after fashion pieces.
In conclusion, 2022 will bring an exciting array of fashion trends. Sustainability will continue to drive the industry, with a focus on eco-friendly fabrics, upcycling, and thrifting. Nostalgia will make a comeback, with '90s fashion and vintage-inspired accessories taking center stage. Gender-neutral fashion will challenge traditional norms, while bold colors, comfort-focused styles, minimalism, statement accessories, and sustainable footwear will also be prominent. Fashion tech will merge with wearable gadgets and smart clothing, and cultural influences will create a global fusion of aesthetics. Influencers will continue to shape trends through social media and brand collaborations. Stay fashion-forward and embrace these trends to express your personal style and make a statement.