How Makeup Artist William Scott Stays Inspired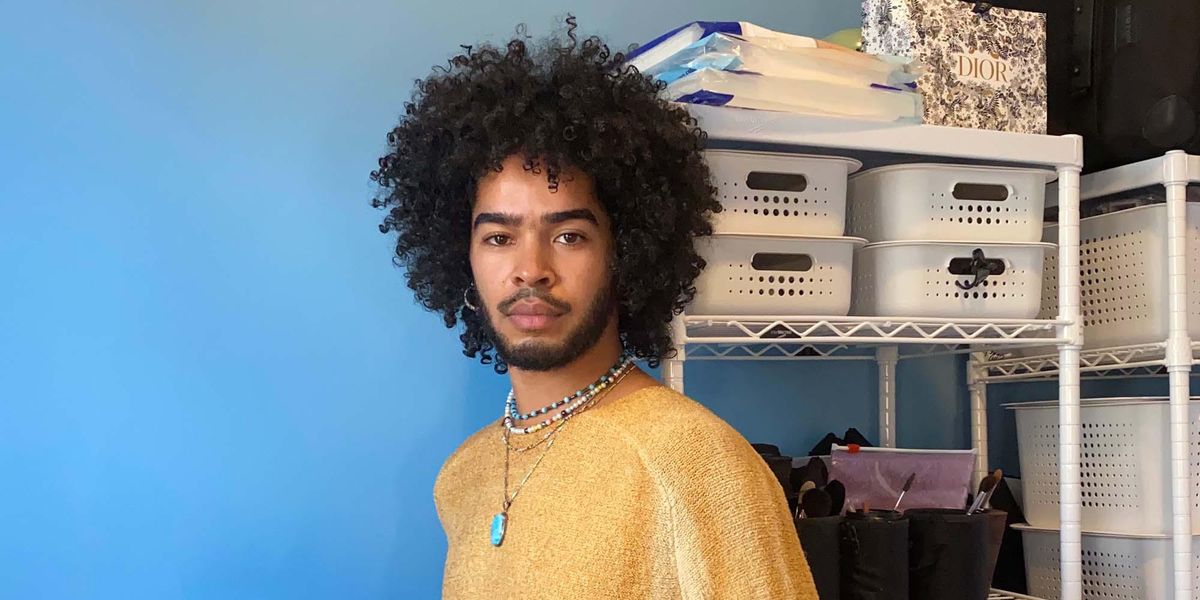 It often starts with a soundtrack. Then, wrapped up in the lyrics' story and the beat's lull, William Scott dreams up the next look they'll create. For the Miami-born, New York-based makeup artist, music is a baseline for creativity. If they can hear the world that the look will live in, then they can visualize it, too. "When I listen to a song, I'll start to see the music video happening in my head. It doesn't matter if there's already one. I'll start creating one in my mind," they tell Coveteur. "I need a soundtrack and a new setting. Then, I imagine what that character would look like in that world. Then, I add some whimsy. When you create a new world, there are no rules. You can make the person look however you want—that's what editorial is."
While they sketch out makeup looks, it's also music videos' brevity that Scott uses as a reference point. In an afternoon dispatch, they marvel at how musicians can create immersive worlds in as little as two minutes. This is parallel to how they describe their makeup philosophy: Their looks exist within a short period of time, but somehow endure as a memory. Consider this: Even if you make the faux-pas of sleeping with your makeup on, you have to wash it off eventually. "Makeup is ephemeral art. It's a moment. It's my mood today," they say. Given their multi-sensory process, it's no surprise that they see music videos as their next creative frontier. But their current stature is impressive in itself. After rising up the ranks as an assistant to industry titans like Pat McGrath and Vincent Oquendo, they count Padma Lakshmi, Janet Mock, Rachel Brosnahan, and Karen Pittman as clients.
Growing up in Miami, Scott's earliest beauty muses included Velvet Rope-era Janet Jackson and Dennis Rodman in his heyday. "Dennis Rodman is probably the first person who made me think that beauty and fashion could be fun and that it's something I could do," they reminisce. "It showed me that I could break the rules." From just a quick scroll through their Instagram feed, it's clear that each client is a canvas for looks that bridge conventionally flawless finishes with whimsical, creative touches, like neon lids and shimmery liners.
Though much about beauty is an offshoot of stark societal standards on how we should present ourselves, it would be remiss not to acknowledge how it can liberate us from them, too. It's not that makeup's impermanence makes it insignificant, being able to wash it off opens up the possibilities of what these looks can be. Scott speaks to this toward the end of our conversation. "The physical is immaterial, so you should seek transformation and you should seek different forms of expression," they say, sagely. "Don't let any worries get in the way of exploration and transformation—that's where growth is. Makeup is just a very small portion of that exploration, but it's a channel to continue exploring, to see yourself and others differently." Read on for a look into Scott's upbringing, their imaginative take on beauty, and the products that never leave their kit.
How did YouTube become a trove of beauty discovery for you?
"I have three sisters and my family computer was right next to the kitchen, in the middle of our living area. When it was my turn to use the computer, I would search for interesting things, and I just happened to land on Pixiwoo's YouTube page back in 2007 or 2008—this was before tutorials were a thing and before we knew YouTube as anything more than a space for weird videos. But I became addicted.
"That was the beginning of my intellectualization of beauty. I was still very unaware of the fashion industry and kind of timid and unsure of what I wanted to do. But my sister, who's a model, was living in New York when I graduated high school and she kind of just urged me to move to New York to do makeup. But I hadn't practiced on anyone but myself. I was living in Miami and the market for fashion makeup in Miami is very commercial and very seasonal. I only did one shoot in Miami before I moved to New York. Luckily, I got a job assisting my first summer living here. That was the beginning of it all."
What did your sisters teach you about beauty?
"After I would watch tutorials, I would think about my sisters and how they approached beauty. My older sister would spend hours tweezing her brows in our big picture window. My little sister loved her hair. I would often try to cut her hair when we were young and my mom would always get pissed. Being able to watch them explore on their own helped me a lot. Because I knew them and could see how they perceived themselves through their makeup, it helped me study other people's self-perception through how they make themselves up. And that helps me to inform how I approach making up other people."
What has this analytical approach taught you about the transformative power of makeup?
"You see a lot of insecurities in those two hours you have with a client. But then, you see them getting ready and being boosted by their team. You see them transform through that process. And when they land on the set where they're supposed to be, they're dynamic and everything that they're trying to be in that moment. It's really empowering to help people get to that, but it is very intimate: I'm touching their face, I'm covering what they don't like.
"I have to intuit a lot of that at the beginning when we're first getting to know each other, but at some point, some people are very particular about their beauty and others let you do what you want. That mutability or decisiveness is also evident in everything else that they do. It's a really interesting look at somebody."
Does the vibrance of Miami come through in your approach to makeup?
"Definitely. Miami has the most beautiful sunsets. Every day is an insane, beautiful hot pink, lavender, soft blue amalgamation. People in Miami are much more willing to be messy. That messiness creates space for randomness in makeup. When I did my little sister's makeup for her prom, she gave me several different colors that she wanted on her eyes: teal, olive green, silver, purple, and gold. I've been in New York for 10 years, but I still say I'm from Miami. And I will always try to put some color on somebody's face."
Does beauty make you feel hopeful?
"Beauty helps me feel peaceful. I genuinely believe that everything in a person's life can be beautiful. You can wake up in the morning to do your makeup and if that takes you 30 minutes, that's 30 minutes of whimsy and creativity and affirmation. The rest of your day, you're doing what you need to do to get through the day. People have lost the practical element of beauty because we've made it something arbitrary and disposable, but beauty can be an everyday thing in our lives. When things around you are beautiful, it creates peace."
Shop William's Essentials:
"This is a serum for your lips and it comes in a little droplet. It's a great hydrator, so if your lips are cracked, this will smooth them out and rehydrate them—just put it on under lip balm."
Fresh
"This smooths and mattifies the skin. It helps me to use less foundation on clients. It also helps to blur imperfections, although I don't think it describes itself as blurring. It takes away shine, which allows you to see a little less detail of what's going on in the skin."
Erborian
"I use this to set concealer, but I also use this to set lipliner if it needs to be crisp and last for a long time. You can draw on the liner, pat this onto it, and keep on drawing a little bit more. This locks in the liner. It's really thin, really natural, and really good at locking in concealer."
Laura Mercier
"This is my favorite lash curler. I curl first, then apply mascara, then I use a heated lash curler to finish it off. The conventional curler is good to get the base on it, and if you need to go back at the end—after your mascara's dried a little bit—you can use a heated curler."
Surratt Beauty
"This is a little wand that heats up a bit. You can push it through your lashes and push them up. It also has little ridges on the teeth that help to separate your mascara. The element inside gets just a little bit warm, so it almost remelts the mascara and slicks it up to help make it longer. It'll thin it out a little bit. Once you start using this, you're going to become addicted. And it's rechargeable, but don't lose the cap for it.
Acavado
"I'm so thankful that they made these because for a long time you had to go searching everywhere for a unique shade of pencil. Then, you had to try and find it in different formulas: for lip, for eye, whatever. But this is a pigment pencil that you can use on any part of your body. They come in a huge range of colors—brights, neutrals. There are a few of these that are perfect lip colors, like Anywhere Caffeine. And the formula is great. It blends into the skin, but it doesn't melt into the skin."
Make Up For Ever
window.REBELMOUSE_ACTIVE_TASKS_QUEUE.push(function(){
var makeMonitor = (getStatus, cb, delay) => ;
var leftArrowCarrousel = makeMonitor( function () return document.querySelector( ".shop-sidebar.shop-posts .posts-wrapper .slick-next" ); , function (res) res.addEventListener("click", () => gtag("event", "Left Arrow Click", event_category: "Shopping Module", event_label: "Previous product at carrousel", ); );
);
leftArrowCarrousel.start();
var rightArrowCarrousel = makeMonitor( function () return document.querySelector( ".shop-sidebar.shop-posts .posts-wrapper .slick-prev" ); , function (res) res.addEventListener("click", () => gtag("event", "Right Arrow Click", event_category: "Shopping Module", event_label: "Next product at carrousel", ); );
);
rightArrowCarrousel.start();
var buyButton = makeMonitor( function () return document.querySelectorAll( ".shop-sidebar.shop-posts .posts-wrapper .widget__product-buy-link-btn" ); , function (res) { for (let button of res) button.addEventListener("click", () => gtag("event", "Buy button click", event_category: "Shopping Module", event_label: `$button["href"]`, ); );
} );
buyButton.start();
var imageShopp = makeMonitor( function () return document.querySelectorAll( ".shop-sidebar.shop-posts .posts-wrapper .widget__head a" ); , function (res) { for (let image of res) image.addEventListener("click", () => gtag("event", "Image click", event_category: "Shopping Module", event_label: `$image["href"]`, ); );
} );
imageShopp.start();
var productTitle = makeMonitor( function () return document.querySelectorAll( ".shop-sidebar.shop-posts .posts-wrapper .widget__headline .widget__headline-text" ); , function (res) { for (let product of res) product.addEventListener("click", () => gtag("event", "Product title click", event_category: "Shopping Module", event_label: `$product["href"]`, ); );
} );
productTitle.start();
});
window.REBELMOUSE_ACTIVE_TASKS_QUEUE.push(function()
window.REBELMOUSE_STDLIB.loadExternalScript("https://s.skimresources.com/js/150311X1615657.skimlinks.js", function()
);
);
window.REBELMOUSE_ACTIVE_TASKS_QUEUE.push(function()
!function(f,b,e,v,n,t,s)if(f.fbq)return;n=f.fbq=function()n.callMethod?n.callMethod.apply(n,arguments):n.queue.push(arguments);if(!f._fbq)f._fbq=n;n.push=n;n.loaded=!0;n.version='2.0';n.queue=[];t=b.createElement(e);t.async=!0;t.src=v;s=b.getElementsByTagName(e)[0];s.parentNode.insertBefore(t,s)(window, document,'script','https://connect.facebook.net/en_US/fbevents.js');fbq('init', '1248680838922690');fbq('track', 'PageView');
);
window.REBELMOUSE_ACTIVE_TASKS_QUEUE.push(function()
window.REBELMOUSE_STDLIB.onElementInViewport( threshold: 400, selector: "video", oneTime: true, onIntersect: function(entry) var element = entry.target; element.setAttribute("allow","autoplay"); element.loop = true; element.muted = true; element.autoplay = true; element.setAttribute("playsinline","true"); //element.controls = false; element.play();
);
);