Designer Laura Citron took her fashion dreams from Broussard to Nashville red carpets, Vogue | Entertainment/Life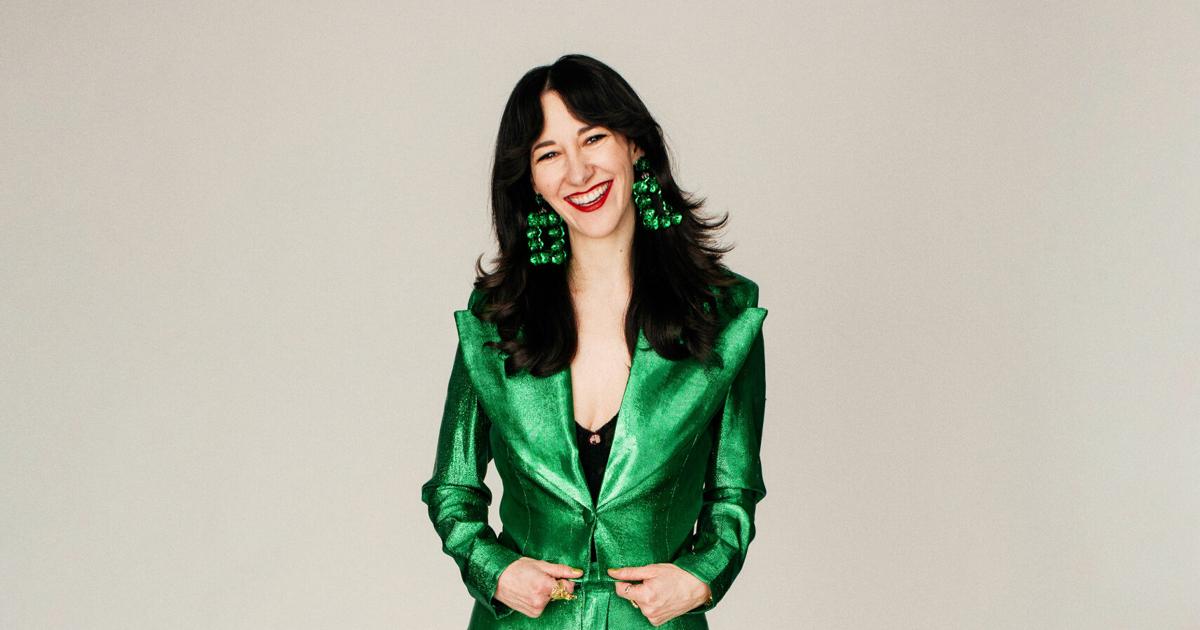 Broussard native Laura Citron has turned her love of bold dressing into a burgeoning fashion brand, growing from a 6-year-old playing dress up in her mother's closet to a professional designer seeing her work on an up-and-coming artist in a feature on Vogue.com.
Citron, 35, can pinpoint the exact moment everything changed for her.
While an undergraduate student at LSU pursuing her degree in broadcast journalism, her cousin, who worked in TV production in Los Angeles, invited her to the city for the summer to explore the entertainment side of the industry.
She scored a gig working on "The Tyra Banks Show" on the broadcast side, but worked her way over to the wardrobe department.
Seeing the care and seriousness with which the team of dozens of stylists, wardrobe managers and other professionals handled dressing Banks and show guests and maintaining the show wardrobe flipped a switch in Citron, she said.
"That was the first time I saw a fashion career in action and that it was even a possibility. As soon as that happened, nothing else was an option for me. It was like I could never go back," she said.
Since childhood, Citron had found a voice in fashion.
She would raid her mother's closet for glamorous pieces from the '70s and early '80s to play dress up, reveling in how confident she felt being able to express herself through clothes.
As she grew, she continued to follow her fashion intuition, taking fashion forward risks and finding ways to push the boundaries by putting together unexpected pieces, the designer said.
"I love all mediums of art, but for instance a painting that you have on your wall, it stays on your wall when you leave your house. That outfit you put on your body is a moving, working, breathing form of art and a message about yourself that you carry throughout the day. To me that has always been so powerful," Citron said.
Realizing this love could be her career, Citron hit pause on her academic career at LSU. She applied to the Fashion Institute of Technology and was accepted. She moved to New York City, transferred as many course credits as possible and began studying fashion merchandising.
She didn't know anyone in the city, and at first her family was concerned by the sharp change in direction, but Citron was confident it was the right move, she said.
"I'm such a passionate person that if I don't put my whole heart into what I do then I really can't see myself doing it well…The risk of going and failing was not as bad as the risk of never trying," she said.
Citron earned her associate's degree from FIT, then a bachelor's while working in the city, trying out different areas of the industry including working as a stylist, a buyer and a trend forecaster. After graduation, she worked for a vintage fashion boutique and honed into her love for vintage clothing.
In 2014, Citron and her boyfriend, Andrew Clancey, then a fashion stylist and boutique owner, made the decision to move from New York City to Nashville, where they felt they could carve a niche for themselves among the city's diversifying fashion scene and a country music industry transitioning from an old-fashioned country look to a more contemporary style.
Clancey launched his own fashion label, Any Old Iron, and Citron founded a vintage boutique, OPIUMvintage.
As she fought to source enough pieces that fit her vision, Clancey suggested trying a new path — taking elements of vintage fashion that she loves, like wide legged suits and disco dresses, and translating them into a modern collection with signature Citron flair.
Clancey, a native of York, England, said he knew Citron's eclectic taste, penchant for unusual pairings and natural dressing sense would translate naturally into design.
Growing as designers alongside one another has been a special experience, he said. The couple each has a vision for their brands, but one can always look to the other as a sounding board and when things get stressful, they ground each other in the things that matter, like family.
Beyond her fashion sense, Citron's natural magnetism and the kindness she shows everyone has helped contribute to her success, he said.
"She's really nice and that goes a long way. I think everyone that meets Laura loves Laura. I think that is part of the Louisiana way, the hospitality, I would say," Clancey said.
Even with Clancey's encouragement, her first collection in 2016 was scary, Citron said.
Putting that piece of yourself out into the world for dissection, critique and public consumption can be a delicate process. Citron described her style as maximalist glamor, ripe with bright colors, shiny lamé and bold prints for people who want to stand out, but in her brand's infancy she was questioned if it was "too much," she said.
The designer was pulled this way and that by opinions, and her doubt led her to overthink designs. With time, she learned when to accept constructive feedback and when to tune out the noise, she said.
"When you dilute your voice, then you lose your audience. You have to be true to yourself because your people will always find you," Citron said.
The designer has grown her brand in the six years since its launch, finding steady interest among Nashville's performers, like Jennifer Nettles of Sugarland, Margo Price and members of the Pistol Annies, Little Big Town and The Highwomen, as well as non-country musicians like rock band Greta Van Fleet and singer Lennon Stella.
The Broussard native focuses on small product runs, with a sample piece and one or two reproductions of her designs, as well as custom pieces to give her customers a unique experience, an approach that's appreciated by performers and other clientele.
Citron said she produces three to four collections a year based around the number of regional fashion shows she commits to in cities like Kansas City, Missouri; Charleston, South Carolina; and Charlotte, North Carolina, with standalone pieces interspersed throughout to keep things fresh.
"I never ever will get tired of [the fashion shows]. I still feel like I'm that 6 year old girl in my mom's closet. If you told me then that I would be designing my own collection and showing in fashion shows and dressing musicians, I would be like 'huh?' I'm definitely still pinching myself every day and so excited that I was able to find a way to make this all happen," Citron said.
A real pinch-me moment came recently in mid-January, when Citron's Gwenyth Twin Set was worn by Jake Wesley Rogers, an up-and-coming U.S. pop musician whose style is likened to Elton John, in a feature on Vogue.com.
Citron had loaned Rogers's team the outfit for press, uncertain what would ultimately become of the photos, so seeing the bold turquoise and royal blue sequined set under the banner of America's iconic fashion magazine and media brand was a thrill.
An outfit credit in Vogue is what every emerging designer desires, she said.
"It was a dream….It's something that you work your whole career toward and hope that one day you should be so lucky, so to have that moment was just surreal," Citron said.
The designer hopes the feature will help get her work in front of more eyes and continue to drive organic growth for the brand.
On her long term list of goals is a presence in New Orleans. Citron is taking her first step toward that mission with a pop-up at the Saint Claude Social Club at 1933 Sophie Wright Place in New Orleans from Feb. 17 to Feb. 20, her first business event in Louisiana, she said.
Citron said she's excited to begin melding her personal connection with Louisiana with her professional life.
The 35-year-old credits her upbringing in Acadiana and Louisiana at large with a humility that's grounded her throughout her professional journey and an open-mindedness that's enabled her to embrace every wild idea.
"Growing up I always felt like I could be myself, let my colors and personality out…the idea of being who you are and living a loud, bright colorful life, which has been a foundation for my life. I have coming from Louisiana to thank for that," Citron said.