11 Fashion Trends That Will Be Big in 2022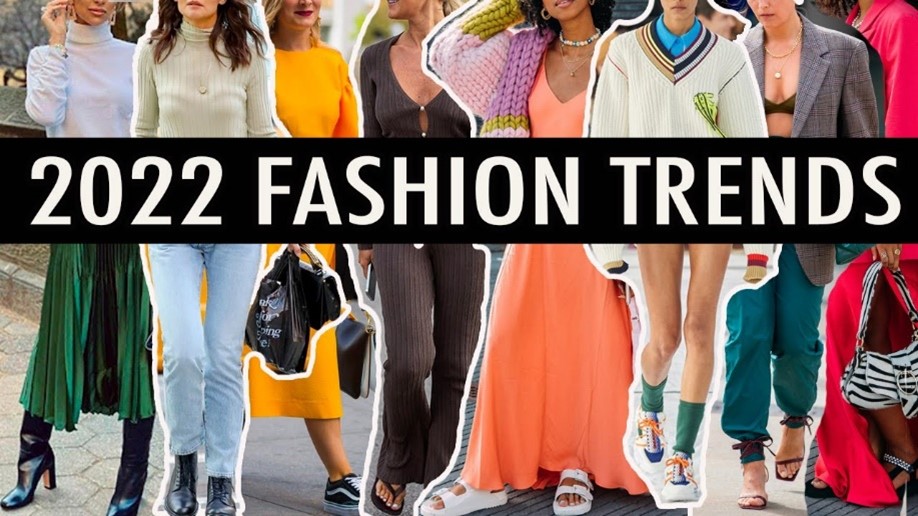 Fashion is an ever-evolving industry that constantly introduces new trends and styles. As we approach 2022, it's time to take a closer look at the fashion landscape and identify the upcoming trends that will dominate the runways and streets. From sustainable fashion to retro revivals, here are 11 fashion trends that are expected to be big in 2022.
Trend 1 – Sustainable Fashion
In recent years, there has been a growing emphasis on sustainability in the fashion industry. Consumers are becoming more conscious of the environmental impact of fast fashion and are seeking out alternatives that prioritize ethical practices and eco-friendly materials. In 2022, sustainable fashion will continue to gain momentum.
Subtrend 1 – Upcycling and Repurposing
One subcategory of sustainable fashion that will make waves in 2022 is upcycling and repurposing. Designers are finding innovative ways to breathe new life into old garments and materials, creating unique and eco-friendly pieces. From patchwork denim jeans to handbags made from repurposed materials, upcycling will be a prominent trend that encourages creativity and reduces waste.
Subtrend 2 – Ethical Fashion Brands
Ethical fashion brands are also gaining popularity as consumers seek out clothing that aligns with their values. These brands prioritize fair trade, safe working conditions, and fair wages for garment workers. In 2022, expect to see more ethical fashion brands emerge, offering stylish and sustainable options for conscious consumers.
Trend 2 – Bold Colors and Prints
In 2022, fashion will be all about embracing bold colors and eye-catching prints. After a period of subdued and neutral tones, vibrant hues and striking patterns will take center stage.
Subtrend 1 – Neon and Vibrant Colors
Neon and vibrant colors will dominate the fashion scene, adding a pop of energy to outfits. Whether it's a neon green top or a vibrant orange dress, incorporating bold colors into your wardrobe will make a strong fashion statement in 2022.
Subtrend 2 – Animal Prints
Animal prints have been a staple in fashion for decades, and they show no signs of going out of style. From leopard spots to zebra stripes, animal prints will continue to be a popular choice for those looking to add a touch of wildness to their outfits.
Trend 3 – Oversized Silhouettes
Say goodbye to figure-hugging clothing because oversized silhouettes will be the go-to trend in 2022. Comfort and freedom of movement will take precedence without compromising on style.
Subtrend 1 – Baggy Trousers and Pantsuits
Baggy trousers and pantsuits will be a key component of the oversized silhouette trend. These relaxed and roomy bottoms offer a contemporary and effortless look that can be dressed up or down, making them versatile for various occasions.
Subtrend 2 – Oversized Blazers and Coats
To complement the oversized trousers, oversized blazers and coats will also be in the spotlight. These structured yet relaxed outerwear pieces provide a chic and slightly androgynous aesthetic, perfect for layering over chunky knits or tailored outfits.
Trend 4 – Statement Accessories
Accessories have the power to elevate any outfit, and in 2022, statement pieces will take center stage. Bold and eye-catching accessories will add a touch of drama and personality to even the simplest of looks.
Subtrend 1 – Chunky Chain Necklaces
Chunky chain necklaces will be a must-have accessory in 2022. These attention-grabbing pieces can be worn alone as a statement or layered with other necklaces for a trendy and edgy look. From gold to silver and everything in between, there will be a variety of styles to suit different tastes.
Subtrend 2 – Statement Hats
Hats will also play a significant role in accessorizing in 2022. Wide-brimmed hats, fedoras, and berets will dominate the fashion scene, adding a touch of sophistication and flair to any outfit. Whether paired with casual ensembles or formal attire, a statement hat can instantly elevate your look.
Trend 5 – Retro Revival
Fashion often takes inspiration from the past, and in 2022, retro styles will experience a revival. Nostalgic fashion trends from the '90s and '70s will take the limelight, adding a touch of nostalgia and vintage charm to contemporary wardrobes.
Subtrend 1 – '90s Fashion
The '90s were known for their grunge-inspired fashion, and in 2022, elements of this era will make a comeback. Think slip dresses, oversized flannel shirts, and combat boots. '90s-inspired fashion embraces a relaxed and effortlessly cool aesthetic that resonates with the modern generation.
Subtrend 2 – '70s Inspired Pieces
The '70s were characterized by bohemian vibes and disco glamour. In 2022, expect to see nods to this era with flared pants, floral prints, and retro-inspired sunglasses. '70s-inspired fashion exudes a sense of free-spiritedness and embraces eclectic patterns and textures.
Trend 6 – Leather and Faux Leather
Leather has always been associated with edginess and timeless style, and in 2022, it will continue to be a prominent trend. Both genuine leather and faux leather will be seen in various forms, adding a touch of rebellion and sophistication to outfits.
Subtrend 1 – Leather Dresses and Skirts
Leather dresses and skirts will be a go-to choice for those who want to make a bold fashion statement. These pieces can range from sleek and form-fitting to relaxed and flowy, allowing for versatility and individual style expression.
Subtrend 2 – Faux Leather Jackets and Trousers
For those who prefer a cruelty-free option, faux leather jackets and trousers will be readily available. Faux leather offers a similar aesthetic to genuine leather while being more affordable and animal-friendly. Whether it's a biker jacket or tailored trousers, faux leather pieces will add an edgy and rebellious touch to any ensemble.
Trend 7 – Athleisure
The rise of athleisure has been a game-changer in the fashion industry, and it will continue to dominate in 2022. Athleisure combines comfort and style, allowing individuals to effortlessly transition from the gym to everyday activities.
Subtrend 1 – Sporty Dresses and Skirts
Sporty dresses and skirts will be a prominent subcategory of athleisure in 2022. These pieces feature sporty elements such as breathable fabrics, drawstring waists, and racerback designs. Sporty dresses and skirts offer a comfortable and casual look without compromising on style.
Subtrend 2 – Athleisure Shoes
To complete the athleisure ensemble, stylish and comfortable shoes are a must. Sneakers, chunky trainers, and slip-on shoes will continue to be popular choices for those embracing the athleisure trend. These footwear options blend fashion and functionality, ensuring that you can conquer your day in style and comfort.
Trend 8 – Puff Sleeves
Sleeves are getting an upgrade in 2022 with the rise of puff sleeves. These voluminous and statement-making sleeves add a touch of drama and femininity to any garment, instantly elevating the overall look.
Subtrend 1 – Puff Sleeve Tops and Blouses
Puff sleeve tops and blouses will be a go-to choice for those who want to incorporate this trend into their wardrobe. Whether it's a subtle puff sleeve detail or an exaggerated statement sleeve, these tops can be paired with jeans, skirts, or tailored pants for a chic and fashionable outfit.
Subtrend 2 – Puff Sleeve Dresses
Puff sleeve dresses will also be a popular choice for those who want a one-and-done outfit. From mini dresses to maxi dresses, the addition of puff sleeves adds a touch of romance and whimsy to any dress silhouette. Whether worn for a special occasion or a casual day out, puff sleeve dresses will make a stylish statement.
Trend 9 – Sheer and Mesh
Sheer and mesh fabrics have been making waves in recent seasons, and in 2022, they will continue to be a fashion-forward choice. These transparent materials add texture and intrigue to outfits, allowing for creative layering and visual interest.
Subtrend 1 – Sheer Tops and Dresses
Sheer tops and dresses offer a playful and sensual look while maintaining a sense of sophistication. Whether it's a sheer blouse paired with a bralette or a sheer dress layered over a slip, these pieces allow for endless styling possibilities.
Subtrend 2 – Mesh Inserts and Overlays
Mesh inserts and overlays will also be seen in various garments, adding a touch of edge and texture. From mesh panels on tops to layered mesh skirts, these details create visual interest and dimension, making the outfit stand out.
Trend 10 – Elevated Loungewear
The COVID-19 pandemic has given rise to the popularity of loungewear, and in 2022, elevated loungewear will take center stage. Comfortable yet stylish pieces will dominate the fashion landscape, offering a perfect balance between coziness and fashion-forwardness.
Subtrend 1 – Luxurious Sweatpants and Hoodies
Luxurious sweatpants and hoodies made from high-quality materials will be a staple in everyone's wardrobe. These elevated loungewear pieces can be dressed up or down, making them suitable for both relaxed days at home and outings with friends. The focus will be on soft fabrics, thoughtful details, and flattering cuts.
Subtrend 2 – Cozy Knit Sets
Cozy knit sets will be another key element of elevated loungewear. Matching knit tops and bottoms will offer a chic and coordinated look that is perfect for both lounging and stepping out. From ribbed textures to cable knits, these sets provide warmth and style during the colder months.
Trend 11 – Pleated Skirts
Pleated skirts have been a timeless fashion staple, and in 2022, they will continue to be a favorite choice. These versatile skirts offer movement, femininity, and a touch of elegance, making them a go-to option for various occasions.
Subtrend 1 – Midi Pleated Skirts
Midi-length pleated skirts will be particularly popular in 2022. These skirts offer a sophisticated and polished look that can be easily dressed up or down. Whether paired with a blouse and heels for a formal event or a graphic tee and sneakers for a casual outing, midi pleated skirts will be a versatile wardrobe essential.
Subtrend 2 – Metallic Pleated Skirts
For those who want to make a bolder statement, metallic pleated skirts will be a standout choice. These skirts offer a touch of glamour and shine, perfect for special occasions or nights out. Whether it's silver, gold, or colorful metallics, these skirts will add a dose of excitement and flair to any outfit.
Conclusion
As we enter 2022, the fashion world is buzzing with anticipation for the trends that will shape the year. From sustainable fashion and bold colors to oversized silhouettes and statement accessories, there will be something for everyone to embrace their personal style. Whether you're a fan of retro revivals or prefer the modern edge of leather and athleisure, these trends offer endless possibilities for creating unique and fashionable outfits. So get ready to elevate your fashion game and make a stylish statement in 2022.